Whether you're racing or recreational fishing, the new Raymarine ElementTM CHIRP/GPS sonar series offers powerful tools to help you find and catch more fish. Raymarine Element is affordable and easy to use and will make you a successful angler.
Here are the five reasons:
1. Element offers exceptionally realistic images of the underwater world, thanks to the ultra-high resolution 1.2 megahertz HyperVisionTM sonar technology and the use of a single all-in-one transducer. With HyperVision technology CHIRP, DownVision, SideVision and Raymarine RealVisonTM 3D sonar reach a new level of image fidelity and fish detection, allowing anglers to see and recognize bottom contours, vegetation, lures and fish through images realistic as photographs.
2.A powerful quad-core processor gives the entire Element series, which includes 7, 9 and 12 models, power and speed unmatched in its class. For the angler, processing speed translates into benefits such as instant chart redraws, quick transitions between screens and menus, smooth, high-resolution imagery generated with high-detail Raymarine RealVision 3D sonar, or with four sonar modules simultaneously .
3. The Element series is easy and convenient to use, and is designed with the angler in mind. A large waypoint button allows you to quickly and easily mark fishing spots, underwater structure or any other point of interest. There are also three configurable keys for quick access to your favorite pages or views. In the LightHouse Sport OS, key fishing activities including casting, jigging and trolling are paired with icons to access pre-configured sonar views specifically for these specific fishing techniques. The intuitive operation of the Element, focused on the needs of the angler, reduces the time to learn the tool and the controls, leaving more time to study the surrounding fishing environment.
4. Element supports numerous fishing charts, including Navionics, LightHouse NC2 with Fishing Hot Spots, Standard Mapping, C-MAP and many others, and above all allows you to create your own personalized maps during a fishing trip or at sea. With the Navionics SonarChart Live and Raymarine RealBathyTM and Element sonar map recording functions, you can create your own personal maps, which other anglers wish they had but which will remain your secret.
You want the best GPS and sonar technology available for fishing without having to invest in a multifunction display with features you'll never use. Equip your boat with a new Raymarine fishfinder/GPS and become a successful angler.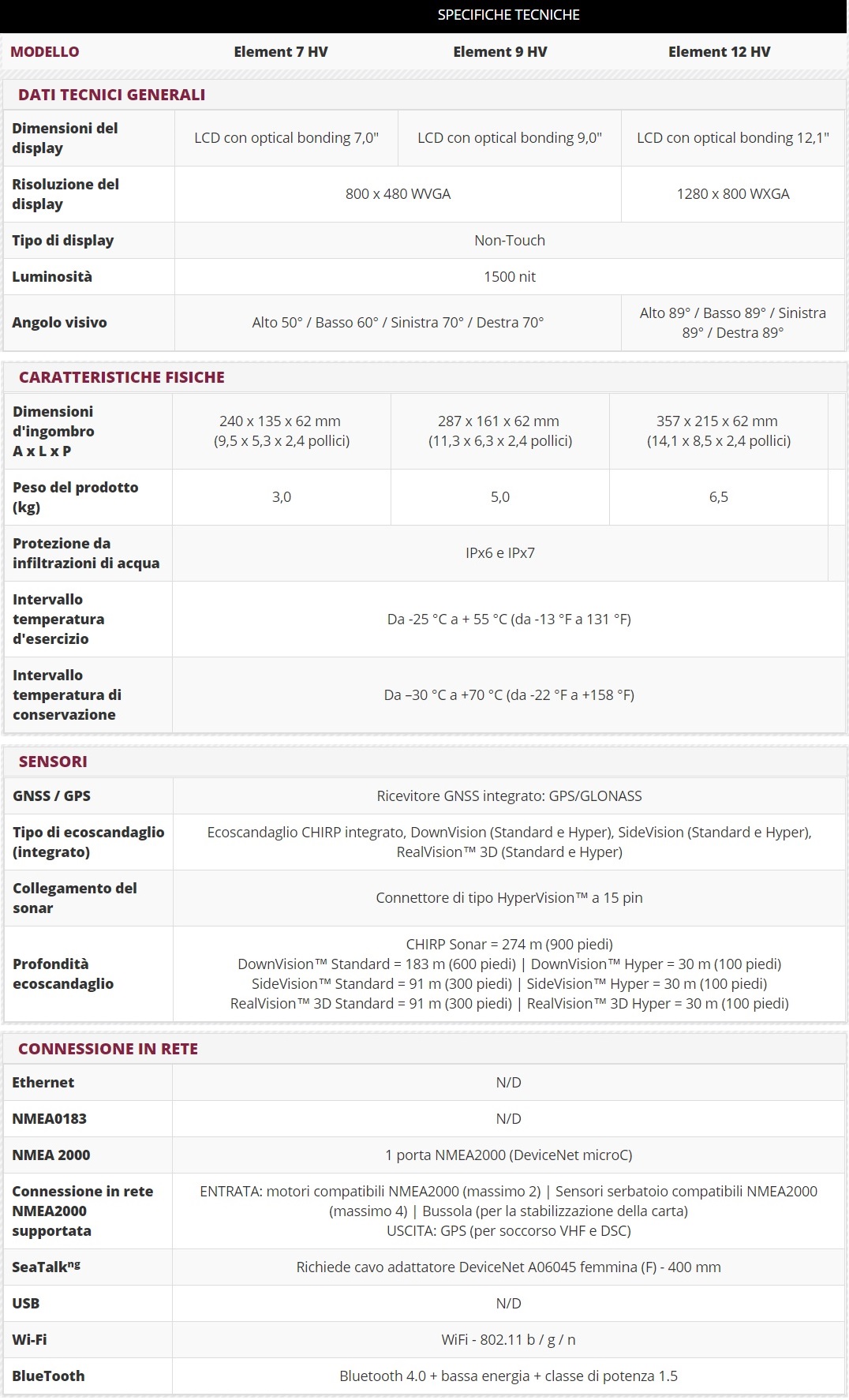 How the shipments of the items ordered on our site work.
All the information you need regarding cost, times and delivery methods.
Shipping Times
Toysfun.it guarantees, depending on the availability of the product in the warehouse, the shipment within an interval ranging from a minimum of 12 hours to a maximum of 5 working days.
How is this time estimated?
In addition to availability, the time needed to manage the order must also be taken into account. Orders with the fastest delivery are those made with online payment (Credit Card and PayPal - and cash on delivery).
Different payment methods and delivery methods may change the shipping time. For example, for orders with delayed payment, such as bank transfers, the shipping date may vary by a few days, as these orders are processed upon receipt of payment confirmation.
Couriers
Once the order has been placed and the payment and delivery methods have been selected, it is processed and the product is entrusted to the courier for shipment where indicated when completing the order.
Couriers for Italy SDA, Crono, TNT, Liccardi, GLS, BRT, Fercam
The shipping cost is €8.00 per shipment.
Goods receipt
You can check the status of your orders at any time in the Personal Area section by viewing the order details. Some small tips for receiving the goods:
Check that the number of packages delivered corresponds to what is indicated in the transport document.
Check that the packaging is intact and not altered even in the closing tapes. In the event of tampering and/or breakage, you must immediately contest the shipment and/or delivery by adding the words "GOODS INSPECTION RESERVE FOR ..... (indicate the reason)" on the delivery document received from the courier or from another operator.

Subsequently you will have to report any damage within 7 (seven) days of receipt by sending an email to ecommprojectagency@gmail.com