Garmin Striker 4 Display 3,5, 200w, Frequency 50/77/200 Khz - Chirp Mid-Band, High
CHIRP fish finder with GPS
Fishfinder with bright 3.5 color display with integrated high-sensitivity GPS.
Mark the most interesting fishing spots and come back easily.
New keyboard for even more immediate use.
Dual frequency CHIRP transducer included in the package.
New quick release bracket with dual release modes.
Striker™ is the new family of fish finders equipped with traditional and CHIRP technology and integrated GPS system.
You will be able not only to analyze the seabed and find the fish under the boat, but also to mark the most interesting fishing spots and return there easily. Furthermore, again thanks to the GPS system , you will be able to obtain information on the navigation speed ( SOG - speed over the ground ) and see the leeway when fishing drifting.
CHIRP: the technology that everyone wants
The new Striker 4 includes a Garmin CHIRP transducer (77/200 kHz), which guarantees even higher levels of clarity and detail.
Unlike traditional transducers, which send only one frequency at a time, CHIRP technology simultaneously sends a signal on several frequencies, from high to low, then interpreting the echo of each single frequency. This continuous spectrum provides more information to CHIRP sonar, which uses it to produce sharper, higher resolution images.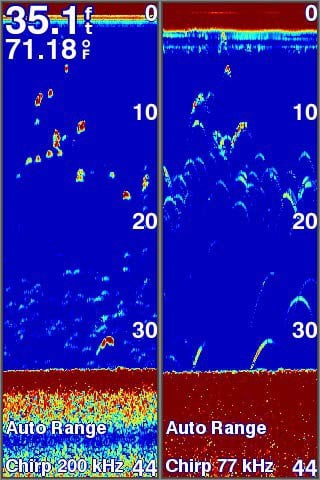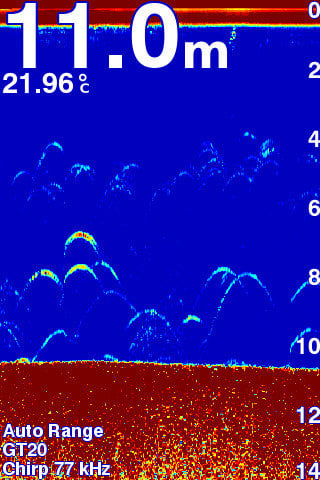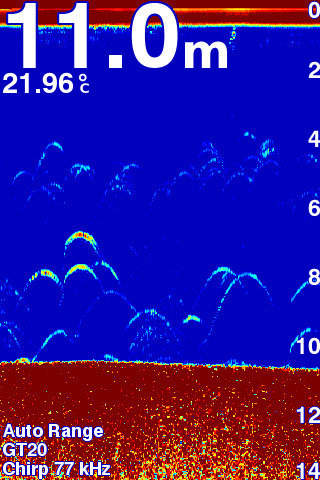 Easily mark your waypoints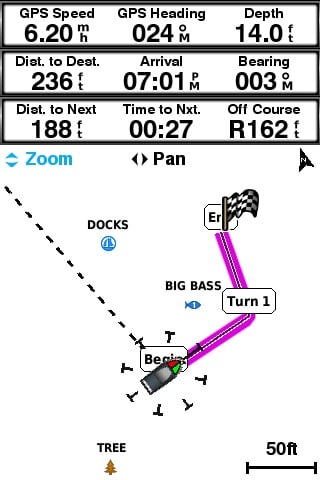 The Striker models are equipped with a built-in high-sensitivity GPS, which allows you to determine your position quickly and accurately and see the leeway when drift fishing. In addition, it is possible to mark via waypoints the best fishing areas and points of interest to return easily. It is also possible to share information with other Striker or echoMAP™ devices installed on board, thanks to the NMEA 0183 network.
You can also split the display into 2 different screens to have all the necessary information under control.
Take your

fish finder

wherever you want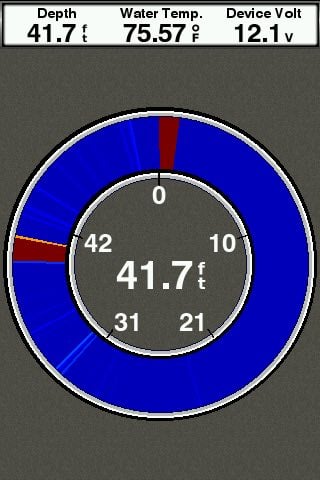 A portable kit is available to protect and transport your Striker, making it the perfect tool for all types of boats. In addition to the case, the kit includes a sealed rechargeable battery, a suction cup mount and a float for the transducer.
General

Dimensions
9.1 x 15.0 x 4.1cm
Weight
230g
Waterproof classification
IPX7
Screen type
HVGA color
Screen size, WxH
4.9 x 7.3cm; diagonal 8.7 cm (3.5'')
Screen resolution, WxH
480 x 320 pixels
Sonar functions and specifications

Double frequency
Double cone
Frequencies supported

Traditional: 50/77/200kHz

CHIRP (medium and high frequency)

Transmission power
200W (RMS)
Maximum depth
1,600 feet in fresh water*, 750 feet in salt water*
Zoom
Water temperature data and graph
Sonar functions

Split screen zoom
Ultrascroll™ (displays fish targets when boat is traveling at high speed)
Fish Symbol ID (identifies fish targets)
Auto Gain Technology (allows you to reduce surface noise and magnify targets)
Adjustable depth line (allows you to measure the depth of objects in the water)
A-scope (allows you to view the presence of fish under the transducer beam in real time)
Water temperature sensor included
Additional features

Additional features

Tilt/swivel stand
Integrated GPS
Mark waypoints
COG
*Depth capability depends on bottom type and other water conditions.
How the shipments of the items ordered on our site work.
All the information you need regarding cost, times and delivery methods.
Shipping Times
Toysfun.it guarantees, depending on the availability of the product in the warehouse, the shipment within an interval ranging from a minimum of 12 hours to a maximum of 5 working days.
How is this time estimated?
In addition to availability, the time needed to manage the order must also be taken into account. Orders with the fastest delivery are those made with online payment (Credit Card and PayPal - and cash on delivery).
Different payment methods and delivery methods may change the shipping time. For example, for orders with delayed payment, such as bank transfers, the shipping date may vary by a few days, as these orders are processed upon receipt of payment confirmation.
Couriers
Once the order has been placed and the payment and delivery methods have been selected, it is processed and the product is entrusted to the courier for shipment where indicated when completing the order.
Couriers for Italy SDA, Crono, TNT, Liccardi, GLS, BRT, Fercam
The shipping cost is €8.00 per shipment.
Goods receipt
You can check the status of your orders at any time in the Personal Area section by viewing the order details. Some small tips for receiving the goods:
Check that the number of packages delivered corresponds to what is indicated in the transport document.
Check that the packaging is intact and not altered even in the closing tapes. In the event of tampering and/or breakage, you must immediately contest the shipment and/or delivery by adding the words "GOODS INSPECTION RESERVE FOR ..... (indicate the reason)" on the delivery document received from the courier or from another operator.

Subsequently you will have to report any damage within 7 (seven) days of receipt by sending an email to ecommprojectagency@gmail.com